Birmingham, England is perhaps best known for being the home of rocker Ozzy Osbourne. However, for me, it is the place where a significant portion of my family chose to settle after leaving India. Many of them moved on to London and Canada, but there is still a bond I have with this city, perhaps because it fits in with my philosophy of a place untouched by tourists. The revitalized center brims with locals, particularly on the pedestrianized streets.
This is my fourth visit to Birmingham, and first since my epic saga of Hurricane Harvey last year. On my agenda this time was to see the sights I had not seen in previous visits. I immediately broke this by heading straight to the city center, but I was surprised to see High Street look as nice as any in Europe.
There were signs everywhere about the 2022 Commonwealth Games, and this presumably is the reason that the city center is undergoing a stunning revival.
After strolling around the center for a bit, I went to the fabled  "Bullring" shopping center, which hasn't changed much. The Bullring name is because the shape of the mall is in a horseshoe shape. There is a nice viewpoint just in front of the entrance.
 There is an interesting aqueduct style train track just across the entrance, that happened to have a train on top just as I clicked my picture.
But perhaps most fascinating is the cathedral just in front of the mall, something I've not seen anywhere else in the world.
From the center, it was off to the canals. Unknown to most everyone who doesn't live in Birmingham, there is a canal network, and the canals in the center have been revitalized for the public.
The main junction is called the Gas Street Basin, and I was pleasantly surprised to see how many people frequent it.
There are boats that nobody seems to ride, but the restaurants were jam packed, impressive for a weeknight. The canalside view is the best view to be had in the city.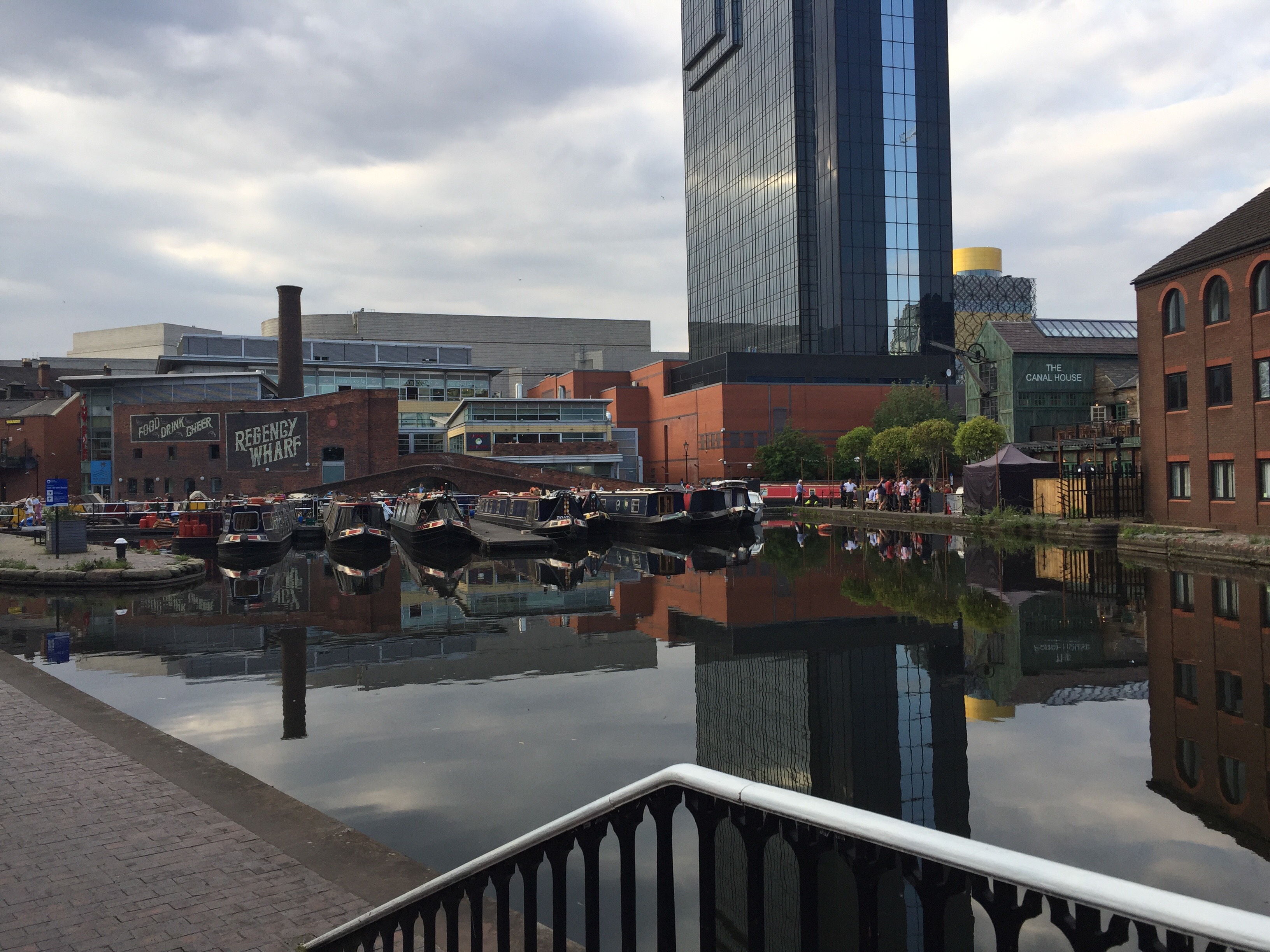 This was enough for one day, particularly after flying in on a nine hour overnight journey. On the next day's agenda was a visit to the original Cadbury chocolate factory.